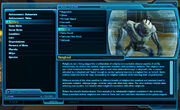 The Bestiary includes all the creatures that can be found in Star Wars The Old Republic. The in-game Codex also includes a specific Bestiary sub-section with entries that can be unlocked as you play the game. The below listings should include all the creature entries from the Codex Bestiary as well as other creatures found in-game.
Bestiary Codex
The bestiary pertains solely to information regarding creatures and fauna of the Star Wars universe. Prominent creatures have their own dedicated entry that gives relevant information and history on that species.
The only way a player can get an entry on a certain species is by either killing a particular kind of that creature or by finding a highlighted item related to that creature (an example would be finding a clickable pile of bones in a rakghoul warren).
Most planets have several main indigenous species. As with all enemies in The Old Republic, some attack you on sight, some only attack when provoked, and then some are docile and little more than scenery, like uxibeasts or nerfs.
Variations
You may encounter many variations of a particular kind of creature. The variations may be reflected by slight differences in name, appearance, level, abilities, and strength.  Beyond the average or normal strength, you may encounter creatures that are Weak, Elite or Champions.  A Champion is a special "boss" creature that may require large groups to defeat.
According to Planet
Other
Known entries