Character

---

Biographical information
Physical description

Species

Devaronian

Gender

Male

In-game information

Level(s)

55

Class

Boss

Location(s)

Chronological and political information
Character

---

Biographical information
Physical description

Species

Unknown

Gender

Male

In-game information

Level(s)

55

Class

Boss

Location(s)

Chronological and political information
Character

---

Biographical information
Physical description

Species

Whiphid

Gender

Male

In-game information

Level(s)

55

Class

Boss

Location(s)

Chronological and political information
Character

---

Biographical information
Physical description

Species

Human

Gender

Male

In-game information

Level(s)

55

Class

Boss

Location(s)

Chronological and political information
The Cartel Warlords, Vilus Garr, Sunder, Tu'chuk and Captain Horic, are the sixth boss in operation Scum and Villainy.
Strategy
Story Mode
This boss fight is somewhat similar to the Dread Guard boss in Terror From Beyond operation. The four warlords must be killed in specific order, and they have passive enhancements that strengthen them. The kill order is: Horic (right most), Vilus (left most), Sunder (left middle) and Tu'chuk (right middle).
Only Sunder and Tu'chuk can be taunted by Tanks, so tanks must be assigned for that duty. Tank assigned to Sunder will not engage him in battle. Instead, he takes his attention and kites him around the room, keeping him as far away as possible from the rest of the group, without attacking him directly. Tank assigned to Tu'chuk will keep fighting him through the whole battle.
DPS will attack the warlords in the order mentioned earlier, starting from Horic. DPS should surround Horic from all sides, because he occasionally will begin to shoot at the direction of a random group member. Anyone caught inside the direct line between Horic and his target will be damaged. This way the damage will be minimized and Healers will have easier time.
When Horic falls, DPS will attack Vilus. He stealths in and out regularly and ambushes someone every time he stealths in. There's nothing else from him to worry about. Also, after Horic dies, Sunder begins to fixate on a group member closest to him. This is why the Tank tanking Sunder should try to be the closest group member when he fixates. Fixate enhances Sunder's attack power. If Sunder fixates someone else than the Tank tanking him, Tank must taunt him again as fast as possible. Sunder continues to fixate until he is dead, or the last man standing, but in this strategy, he is the third to fall.
When Vilus is dead, DPS will attack Sunder. Tank tanking Sunder must keep his eyes open in this phase, because it's unlikely he's always able to be the closest member to Sunder when he fixates, especially if there are melee DPS. Tank will still keep kiting him around the room.
After Sunder is gone, Tu'chuk calls 2 lieutenants to his aid. Ignore them and focus directly on Tu'chuk. In this phase Tu'chuk will gain a stacking buff which increases his damage per each stack. He must be brought down quickly, or he can become too strong to defeat, or he might even enrage. Tanks need to swap every once in a while to make sure DPS and Healers are safe from him. When Tu'chuk dies, finish off his lieutenants and you have won.
Operation Boss Fight Videos
Story Mode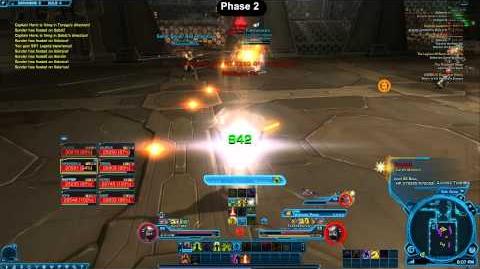 Hard Mode
Nightmare Mode
Community content is available under
CC-BY-SA
unless otherwise noted.