Character

---

Biographical information
Physical description

Species

Human

Gender

Male

In-game information

Level(s)

55

Class

Boss

Location(s)

Chronological and political information
Character

---

Biographical information
Physical description

Species

Human

Gender

Male

In-game information

Level(s)

55

Class

Boss

Location(s)

Chronological and political information
Character

---

Biographical information
Physical description

Species

Human

Gender

Female

In-game information

Level(s)

55

Class

Boss

Location(s)

Chronological and political information
Ciphas, Heirad and Kel'Sara, also known as The Dread Guard, are the second boss in the Terror From Beyond operation.
Strategy
Story Mode
Since you have 3 bosses to battle at the same time, it's imperative that this is done right. The bosses must be killed in the following order: Heirad (middle), Ciphas (left), Kel'Sara (right). The reason why they must be killed in this order, is because they have passive abilities which strengthen them. When attacking them in this order, those abilities are basically nullified. When one of them dies, the others are restored to full health.
Throughout the battle Tanks must swap targets between Ciphas and Kel'Sara. Kel'Sara inflicts a stacking debuff that will increase the damage her crushing abilities inflict. Tanks must decide how many stacks they will hold out before swapping. DPS will focus on the bosses in the order mentioned earlier. When Heirad starts channeling Surging Chain, Ciphas will start channeling him. All DPS must then attack Ciphas to get his shield out and interrupt his chaining to Heirad. Immediately after the interrupt all DPS resume their attack on Heirad. This happens about 2 times, if DPS is decent.
After Heirad dies, DPS must attack Ciphas. During this phase green circles will appear throughout battlefield. Everyone should avoid them, unless they are doomed by Ciphas. Ciphas dooms random group member (usually DPS or Healer). If they don't get rid of it, they die in about 10 seconds. To get rid of it, doomed players must walk into 2 green circles. If a player steps into a green circle, it will disappear. This is why they should be avoided, so that doomed players will have easier time to get rid of it.
When only Kel'Sara is left, Tanks will keep swapping with her. Kel'Sara will every once in a while mark a random group member for death. When this happens, there will be a green line connecting Kel'Sara with her target. Target must run away from Kel'Sara until its effect ends. Other than that, Kel'Sara is an easy boss alone.
Hard Mode
On hard mode, all the things from Story Mode will be present, along with some new ones.
Before starting the battle, all the group members must find a spot where to retreat from Heirad's new Lightning Field-attack. Lightning Field will hit every group member directly, and also creates a 15-meter radius ring of lightning that causes damage to everyone, who is in its area of effect. The retreat spots must be 15 meters away from other group members in order to minimize damage. Other than that, Heirad's tactic is the same as in story mode.
During Ciphas' phase, Ciphas will choke a random group member as a new trick. Just interrupt it. Also, Doom has been enhanced. In order to get rid of it, doomed player must walk into 3 green pools instead of 2.
During Kel'Sara's phase, she will summon additional enemies. They must be killed quickly, or otherwise she can wipe out the group. Also, she inflicts Leech-ability on the Tank who is currently tanking her. Leeched Tank must move away from her and second Tank must then tank her. Leeched tank must not be healed, because Leech reverses the healing effect, meaning that the leeched Tank will take damage, if they are healed. And healing the leeched tank will also heal Kel'Sara.
Nightmare Mode
On nightmare mode this fight is very tricky. You also have a tight enrage timer.
On Heirad phase mechanics are like in Hard Mode, but you'll need to be fast. You can afford only 2 Lightning fields. Any more than that, and enrage is a certainty.
Ciphas phase generally functions like on Hard Mode, but now you'll need to walk into 6 green pools in order to cleanse Doom. Pay close attention to the pools, so that you don't take them away, when they are not needed. Sages and Sorcerers can use their Force Barrier to survive Doom without stepping into pools.
The greatest change comes in Kel'Sara phase. Like green circles in Ciphas phase, you'll get red circles in Kel'Sara phase. Stepping into these circles causes a debuff which causes around 7000 damage per second. And since you have to move a lot in this phase due to Kel'Saras tricks, you'll have to be very careful, where you walk. The circles appear on your feet. If at all possible, stay at the edges of the area, as they will cause less harm from there. And you don't want to have circles in the spot where adds spawn, especially on the one that casts Mass Affliction. If you have any green circles left after Ciphas dies, you can use them to counter the red circle debuff. Green circles also cause a debuff perioidical damage, but it's far more weaker. In this phase, do what you need to do on Hard Mode and watch your step.
Operation Boss Fight Videos
Story Mode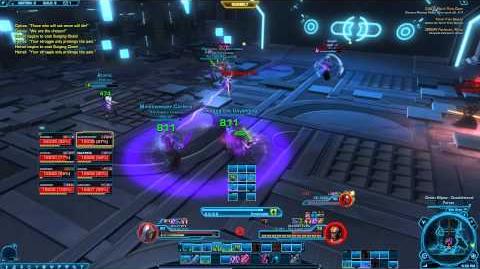 Hard Mode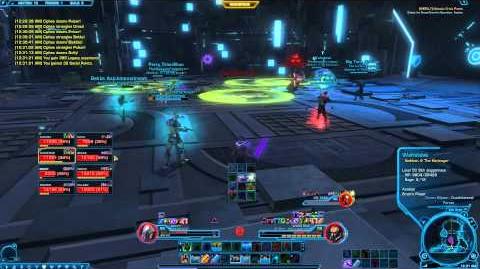 Nightmare Mode
Community content is available under
CC-BY-SA
unless otherwise noted.