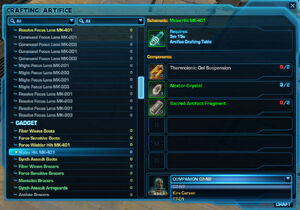 This crafted item modification both improves the statistics of a weapon, and changes the color appearance of the weapon (for melee weapons) or its bolts (for ranged weapons). Most color crystals apply a single color, but some have a multi-color effect.
Unlike most crafted items, the statistics of color crystals are not affected by the skill level of the crafter nor the grade of the materials used in crafting; only the color varies with skill and material grade. All standard Artifice-crafted color crystals are artifact-quality, provide a +41 statistic increase, and are item rating 138.
Modification effects
There are three basic variants of crafted color crystals:
Advanced (color) Eviscerating Color Crystal: +41 Critical Rating
Advanced (color) Hawkeye Color Crystal: +41 Power
Advanced (color) Indestructible Color Crystal: +41 Endurance
Each variant is available in all the craftable colors.
Crafting
Crafting any color crystal requires the following materials of a grade corresponding to the skill level:
2 artifact-quality gemstones
4 prototype-quality gems
8 Color Crystals (may be split between two colors)
2 artifice bonded attachments.
Colors available
Trainer-taught schematics are available for the following weapon colors:
Amethyst (skill 500): requires 4 green + 4 blue color crystals
Blue (skill 1): requires 8 blue color crystals
Fire Red (skill 500): requires 4 red + 4 green color crystals
Green (skill 240): requires 8 green color crystals
Orange (skill 300): requires 6 red + 2 green color crystals
Red (skill 80): requires 8 red color crystals
White-Purple-Blue (skill 350): requires 8 blue color crystals
White-Yellow-Orange (skill 350): requires 8 red color crystals
Yellow (skill 160): requires 4 green + 4 red color crystals