Companion
Revision as of 14:51, 5 September 2010 by
im>Callawey
Welcome to the Star Wars: The Old Republic Companions Portal!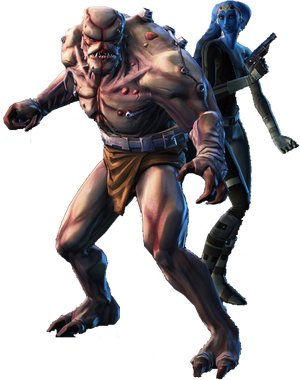 Every Star Wars™ hero needs a companion. Han had Chewie, Luke had R2-D2 — even Jabba had the cackling monkey lizard Salacious B. Crumb. These characters complement a player's strengths or weaknesses, and provide company for the epic journey you will inevitably undertake. Whether they're combative, friendly, flirtatious, or even just good for a laugh, companions always contribute to your adventure.
In Star Wars™: The Old Republic™, a variety of these Companion Characters will join your cause. Some will join you for adventure, some for greed, and some for motivations that will remain hidden until much further along in your adventure. The Companions run the gamut from intelligent droids to bizarre aliens, from an honorable princess to a roguish pirate, and each class has a completely unique set of Companions.
While traveling the galaxy, your Companion Characters will provide commentary, information on plots and directions to points of interest-- all from their own unique perspectives. Companion Characters may act as your conscience, and try to influence your decisions. In turn, you will influence them, and change how they develop as the story progresses. Based on your choices, some Companions will become your closest friends, others may become your lovers, and a few may even become your enemies!
You will be introduced to your first Companion Character early in your adventure. But as you become more seasoned, more will rally to your cause. As you travel with your Companions and get to know them better, they will not only become more powerful but they will also introduce you to a unique series of quests and rewards. Furthermore, you will be able to enhance your companions by equipping them with various gear.
As your team grows and develops, new options, strategies, and tactics will become available. When you're headed to "The Tomb" on Belsavis, who will you bring to watch your back and help out the rest of your group? Do you bring the hard-as-nails soldier who will help keep your enemies' attention off of your group, the gifted battlefield medic who can help keep everyone alive, or do you bring your ever-faithful Astromech whose computer skills may be the only hope for completing the mission? These are just some of the choices you will make while you and your Companions roam the galaxy in Star Wars: The Old Republic.
VETTE

T7-01

| | |
| --- | --- |
| | Few people have seen as much of the galaxy as Vette and few have had as little control of their destiny. Born a slave on the occupied world of Ryloth, Vette was separated from her family at an early age and sold to a series of minor crime lords. When legendary pirate lord Nok Drayen utterly destroyed her latest owner's holdings, Vette and the other slaves were given their choice of freedom or joining up with Nok. Vette became a pirate, travelling the known worlds and learning to get in and out of places she wasn't allowed. Discover More |

| | |
| --- | --- |
| | The quirky and stubborn Astromech Droid designated T7-O1 hasn't been memory-wiped since his activation more than two centuries ago. This rare condition gives T7 a massive knowledge base, with detailed records of every mission he's ever undertaken and the many friends and enemies made along the way. Because his memories remain intact, T7 has developed a candid personality, a strong independent streak and a unique perspective on the galaxy. Discover More |