Harrower-class
dreadnought

Production information

Class

Dreadnought

Manufacturer

Technical specifications

Length

800 meters

Armament

Turbolaser cannons
Quad-laser turrets
Ion cannons
Proton torpedo tubes
Concussion missile
launchers

Complement

Crew

2,400

Passengers

7,300

Usage

Role

Warship

Affiliation
"The epitome of Imperial destructive power, the Harrower-class dreadnought is the largest and best-armed ship currently in production by the Imperial military. Its wedge-shaped design is typical of Imperial warships going back to the founding of Dromund Kaas, but its technology is strictly state-of-the-art. The Harrower is capable of holding its own against starfighter fleets or multiple smaller warships but is best used as the backbone of an Imperial fleet–coordinating attacks, absorbing damage and launching devastating volleys where needed. The energy and material cost of building a single Harrower is roughly equivalent to ten years' output of a major planetary mining colony. The loss of a Harrower is enough to pain logistics operators across the Empire."
―In-game Codex (Ships)
The epitome of Imperial destructive power, the Harrower-class dreadnought is the largest and best-armed ship currently in production by the Imperial military. Its wedge-shaped design is typical of Imperial warships, going back to the founding of Dromund Kaas, but its technology is strictly state-of-the-art. The Harrower is capable of holding its own against starfighter fleets or multiple smaller warships, but is best used as the backbone of an Imperial fleet–coordinating attacks, absorbing damage and launching devastating volleys when required.
The energy and material cost of building a single Harrower is roughly equivalent to ten years' output of a major planetary mining colony. The loss of a Harrower is enough to pain logistics operators across the Empire.
History
The design was developed under the supervision of Odile Vaiken, the first Grand Moff of the Sith Empire, in the decades after the founding and resettlement of Dromund Kaas. The first ships were assembled in orbital shipyards while Vaiken plotted his build-up and estimated that they and the rest of the military would not reach their goals of challenging the Republic within his lifetime.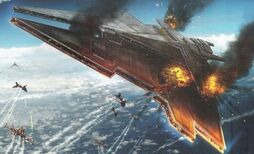 They were the most numerous capital ships of the
Imperial Navy
during the
Great Galactic War
and the
Cold War
, serving alongside the
Oppressor-class battlecruiser
and
Mk. VI Supremacy-class starfighter
. Ships of this class participated in the
Sacking of Coruscant
and the bombardment of the city-wide planet.
Appearances
External links
Community content is available under
CC-BY-SA
unless otherwise noted.