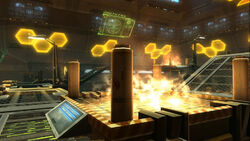 Huttball is a PvP warzone located on neutral planet of Nar Shaddaa. Due to the planet's neutral nature, competing teams from the Republic or the Empire can battle teams from the same faction,[1] although, the in-game description asserts that teams are chosen by random drawing.[2]
Huttball itself is a spectator sport sponsored by Hutt cartels. The basic goal is to grab the ball at the center of the field by right-clicking on the ball itself, then take it across the opposing team's endline. Players can move the ball by running, jumping, and throwing passes. Incomplete passes reset the ball to the central platform. A player can intercept the ball if they are the closest to the center of the ball's landing spot circle (and they are not stunned or mezzed)[3]. Defensive play seems to primarily be violent attacks against anyone not on your team. Killing the character who currently has the ball transfers the ball to you. The game is timed, and in case of tied scores, the team with final possession wins.[4] After each game, a leaderboard is displaying showing various stats for the players.[5]
Here can be seen a gameplay guide to how hutball works:
The Playing Field
To raise the ante, the playing field also includes various deathtraps, including acid pools and fire boxes. These deathtraps are provided by the Czerka Corporation. [2] In addition to dangerous areas, there are also useful features, such as cover obstacles, anti-grav panels, and air-jets that can be used for quick transportation (although a player cannot control at all where this will move the character to).[6]
Perhaps most important, there are also power-ups on play area,[7] of which three are known: 1. healing / damage increase 2. speed boost[8] and 3. a damage power-up [9].
The Ball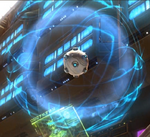 The ball is actually made of an explosive device enscased by a uranium shell. This causes the run speed of the player who is carrying the ball to decrease. If one of the teams try to keep the ball in their possession without trying to score, the Hutt will detonate the ball causing harm to everyone surrounding the ball carrier, and placing a new ball back at the center.[10]
Warzone Accomplishments
While competing in The Pit, players can earn various awards, which equate to rewards after the match. Actions that earn accomplishments include:[11]
scoring
interceptions
defense
damaging other characters
healing other characters
killing another character in a one-on-one fight
Gallery
Videos
Sources
Community content is available under
CC-BY-SA
unless otherwise noted.