| | | |
| --- | --- | --- |
| | Interdictor-class Cruiser | |

Production information

Class

Manufacturer

Technical specifications

Length

600 meters

Armament

Complement

Crew

5,224

Passengers

3,600

Usage

Role

Cruiser

Affiliation
"Sith Interdictor Ship! They must've been waiting for us in the hyperspace rout. We're caught in their tractor beam"
The Interdictor-class Cruiser is a Cruiser formerly used by the Sith Empire led by Darth Revan and Darth Malak during the Jedi Civil War.
History
The Interdictor-class Cruiser was originally manufactured by Sienar Systems for the Republic Navy, the ship was marginally successful but overall reliability proved it some what expendable. This changed when the Republic Navy Captain -- defected to the Sith Empire taking one of the few reliable Interdictor-class Cruisers with him, the vessel was tested by Darth Revan and the Sith Lord was impressed by the ships capability, he then ordered the Star Forge to begin manufacturing the Interdictor-class Cruisers for his Sith Armada.
Notable ships
Apperances
External links
Gallery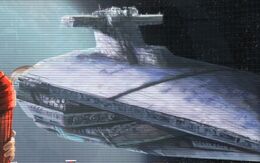 Community content is available under
CC-BY-SA
unless otherwise noted.