"Yes? Have you come with questions?"

This page, while containing appropriate information on its topic, is incomplete. It is requested that this article, or a section of this article, be expanded. Once the improvements have been completed, please remove this notice.
Outpost Talarn a Republic-aligned outpost located on the southern side of the Juran Mountains on Alderaan.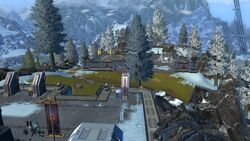 Notable NPCs
Ammenities
Imperial Medical Service - Imperial Medical Droid
Mailbox
Mission Terminal