"Yes? Have you come with questions?"

This page, while containing appropriate information on its topic, is incomplete. It is requested that this article, or a section of this article, be expanded. Once the improvements have been completed, please remove this notice.
Outpost Zaroshe is a Imperial-run outpost located in The Dune Sea area of Tatooine. It is situated near the edge of the Sea, close to several cave and natural rock formations before facing outward on the sands. It is close to the meditation hut of Jedi Masters Yonlach and Yu-Li.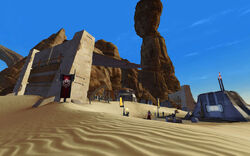 Notable NPCs
Shayl Tasao
Major Brega
Officer Vengo
Vendors
Imperial Medical Service - Imperial Medical Droid
Ammenities
Dropbox
Mailbox
Quick Travel Point
Taxi
Community content is available under
CC-BY-SA
unless otherwise noted.