| | | |
| --- | --- | --- |
| | Sith Dropship | |

Production information

Class

Manufacturer

Sith Shipyards

Technical specifications

Hyperdrive

None

Armament

None

Crew

None

Passengers

Usage

Role

Dropship

Affiliation
Sith Dropships were employed by the Sith Empire during the Great Hyperspace War to deploy troops on a planets surface.
Description
Sith Dropships were designed to resemble the shape of an upside down pyramid attached to oblisk. They had a rocket motor fitted to the top of the craft for downward propulsion.
Method of Operation
Sith Dropships traveled though space attached to a Sith Personnel carrier, which would then enter a planets atmosphere and jettison them, allowing them to fall to the surface and deploy the troops within.
External links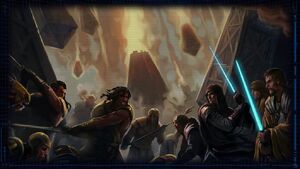 Community content is available under
CC-BY-SA
unless otherwise noted.