"Declaration: All meatbags have been cancelled."

This article includes information about a character, event, instance or game mechanic that has been discontinued. Please be advised that if this template is in place on a page, future information additions need to come from outside sources.
The
Skill Tree
is used to specialize the skills of your character beyond the choice of
Advanced Class
. Every class has a total of five skill trees. Each Advanced Class has two unique skill trees and shares one tree with the other Advanced Class of its class. The choice of Advanced Class determines the three skill trees that are available.
Players can reset their character's skill points in the Combat area of their faction's fleet for free once per week, and additional respecs cost credits. There are plans to add a dual-spec feature to the game in patch 1.4[1], allowing you to switch between two specializations without having to reset your skillpoints at the fleet.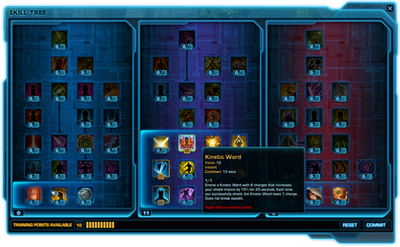 External links
References