Slippery Slopes Cantina is located of Lucent Square on the Lower Premenade of Nar Shaddaa.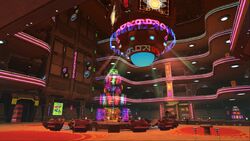 Vendors
Cantina Vendor - Morus-Lok
Social Items Vendor - Gandra
Persons of Note
Carteri
Krata, along with:

Spicelord Joy
Spicelord Love
Ammenities
Jukebox, playing:

Shapa Keesay
Average Brown Wookiee
Smeeleeya Whao Tupee Upee
Run Kessel Run

Live performers (South Sector Boppers).
Entertainment
Along with a jukebox, performing inside the cantina are the South Sector Boppers.
Accesses
Tropper Phase
Bounty Hunter Phase
Gallery
Community content is available under
CC-BY-SA
unless otherwise noted.