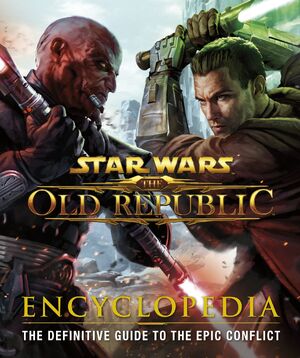 "Star Wars The Old Republic Encyclopedia is an unprecedented visual companion to this complex world. Written by a team of writers from the game and created in close collaboration with Lucusfilm, LucusArts and BioWare, the book reveals a wealth of new material on characters, weapons, equipment, vehicles, history and locations."
―Book Synopsis
The Old Republic Encyclopedia is the essential in-depth guide to the characters, weapons, vehicles, events and planets of the Star Wars galaxy during the turbulent times of the Old Republic. Featuring stunning artwork from the groundbreaking video game and amazing in-game images, this comprehensive encyclopedia contains knowledge and Star Wars lore that go far beyond the realm of the game.
Description
This 352 page encyclopedia is the largest source for Star Wars The Old Republic. The hard back cover features concept art while in-book page backgrounds display stunning artwork and in-game screen shots. It comprehensively documents all factions of the Old Republic era.
Authors
Ian Ryan
Charles Boyd
Hall Hood
Joanna Berry
Zach Bush
James B. Jones
Contents
Amidst it's vast repository of information, here are highlights of the book.
The Republic
Republic Trooper

Republic Trooper: Tour of Duty
Republic Trooper: Companions
Republic Trooper: Weapons and Armor
Republic Trooper: Starship
The Jedi Order
Jedi Knight

Jedi Knight: To Battle With Darkness
Jedi Knight: Companions

Jedi Consular

Jedi Consular: Emissary of the Rift Alliance
Jedi Consular: Companions
Jedi: Weapons and Armor
Jedi: Starship
The Sith Empire
Imperial Agent

Imperial Agent: Hidden Enemies
Imperial Agent: Companions
Imperial Agent: Weapons and Armor
Imperial Agent: Starship
The Sith Order
Sith Warrior

Sith Warrior: Path of Destruction
Sith Warrior: Companions

Sith Inquisitor

Sith Inquisitor: Ascension to Power
Sith Inquisitor: Companions
Sith: Weapons and Armor
Sith: Starship
The Underworld
Smuggler

Smuggler: The Greatest Outlaw
Smuggler: Companions
Smuggler: Weapons and Armor
Smuggler: Starahip

Bounty Hunter

Bounty Hunter: Profit and Glory
Bounty Hunter: Companions
Bounty Hunter: Weapons and Armor
Bounty Hunter: Starship
Non Playable Factions
Species
Sentient Species
Non-Sentient Species
Droids
Planets
Community content is available under
CC-BY-SA
unless otherwise noted.