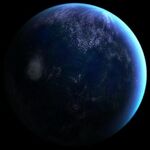 Dromund Kaas is the third planet in the Dromund system and the capital of the Sith Empire. It was rediscovered by the Sith Empire following their defeat in the Great Hyperspace War. It is now home to the Sith Emperor and his Dark Council.
Even though the planet is bristling with the energy of the dark side, it is the Imperial military that has the largest visible presence on Dromund Kaas. It is here that the Empire's power brokering games are played and alliances are forged and broken. For up-and-coming Moffs and Imperial intelligence operatives, success – and survival – hangs on the ability to master these games of intrigue. It is from here, on Dromund Kaas, that the dark hand of the Empire reaches ever outward.
Info, Help and Useful links
TOR Wiki is an online encyclopedia based on the popular MMORPG Star Wars: The Old Republic, developed by BioWare, LucasArts and Electronic Arts.
This site contains thousands of pages relating to in-game items, missions, characters and planets, as well as voice actors, expansion information and news articles about the game. As the game is constantly expanding and changing, there will always be something new to add, so this Wiki will expand as long as there is new content to include. Whether you're here just to visit, read, or help us add more, we hope to continue expanding and provide information from all corners of the galaxy!
If you don't know where to start, here are some useful links:
You may also want to check out TOR Wiki in a different language: