"Yes? Have you come with questions?"

This page, while containing appropriate information on its topic, is incomplete. It is requested that this article, or a section of this article, be expanded. Once the improvements have been completed, please remove this notice.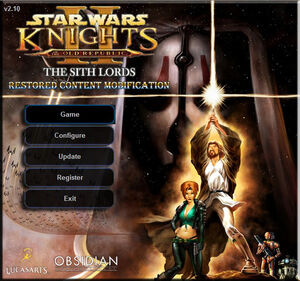 The Restored Content Mod is a fan made mod for Knights of the Old Republic II: The Sith Lords that restores A large portion of content that was cut from the game by LucasArts prior to its release.
Community content is available under
CC-BY-SA
unless otherwise noted.