Terminus-class
destroyer

Production information

Class

Destroyer

Technical specifications

Length

500 meters

Armament

Turbolaser cannons
Laser turrets
Ion cannons
Concussion missile
launchers

Complement

14 starfighters
2 bombers
3 shuttles

Crew

520

Passengers

285

Usage

Role

Destroyer

Affiliation
"Unlike the Empire's other ship designs, the Terminus-class destroyer is built for speed over firepower, although it still outguns most Republic ships of similar size. Like the Harrower-class dreadnought, the Terminus also relies on a wedge-like shape to minimize its forward profile while maximizing forward firepower. Coupled with the ship's powerful engines, the Terminus is the perfect design for interdiction and pursuit missions. Service on a Terminus is often the first capital ship assignment for new naval officers and crewmen, giving them an opportunity to prove their mettle before transitioning to larger ship classes like the Harrower."
―Excerpt from Star Wars The Old Republic Encyclopedia
The Terminus-class destroyer was a starship used by the Sith Empire during both Great Galactic Wars and the Cold War.
Description
Used primarily by Sith Empire as an escort and defensive vessel, the Terminus was also capable of performing attack roles in major fleet operations, heavy armor plating focused forward to support aggressive attack maneuvers while powerful maneuvering thrusters greatly enhanced combat agility. Dual sensor towers allowed long-range tracking of enemy targets, enabling it's weapon systems to perform with maximum effect.
Present For
Sources
External links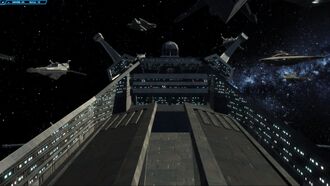 Community content is available under
CC-BY-SA
unless otherwise noted.